Handy/Mobile 0172 8306 250
You can also now pay with EC or Credit Card!

The Boring Bits!
There are numerous sites advertising Private Tours with `Private´ Vehicles
Please be aware that it is totally illegal in all of Germany
to take paying customers if the person and vehicle
are not registered with the IHK(Trading Regulators),
even if the cost is hidden they are still operating a business,
they cannot use Hire Cars from AVIS or HERTZ etc,
This can cause a Hire Company a fine as much as 20,000 Euros!
their `Commercial Driving Licence´ for up to 8 passengers,
the so-called P Schein will not
save them from prosecution.
Most of them are ignorant of this, but their insurance however high,
will not pay out for illegal activities,
or your wheelchair in the event of an accident!
That they are good Tour Guides and know their stuff
is not being questioned here,
just their legal standing for
`Geschäftsmässige Personenbeförderung´as the Germans call it!
Or taking paying customers in motorised vehicles as a Business.
Untill recently the Tour Agents Operator´s hiring/promoting
them on various US and Canadian Websites,
Get My Guide, GoLocal etc, who incidently put your Tour prices up
as much as 20%
as part of their Commision Rates
are/were not aware of these very strict regulations. Honestly!
This is the Certificate needed by Tour Guides ,
If they want to take people on paid trips in REGISTERED vehicles
with up to 8 people and the driver!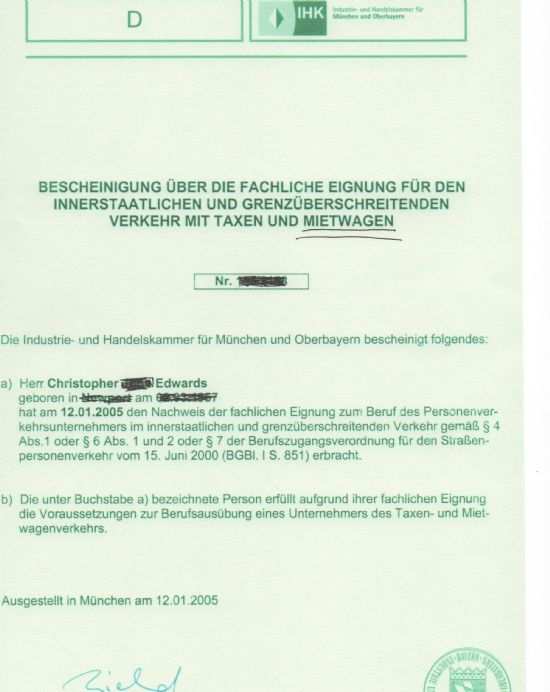 Once the Certificate above has been granted,
after extremely strict testing then they have to buy a suitable vehicle
and have it Registered by their Local Authority with proof of appropriate insurance,
It can be up to €4000 depending on coverage!
This is for a TAXI §47 but a Mietwagen is similiar
and comes under the Laws §49 PBefG!
This lecture is really for those Tour Guides
who are ignorant of their mistakes
and using their own privately owned vehicles,
or AVIS etc and of course for customers,
who won´t be covered in the event of an accident!
If any illegal operators would like to forge the Documents then
there is a prison sentence involved, crack on!
The Laws are in English on many Websites,
and anyway, ignorance of the Law is no Defence!
http://www.gesetze-im-internet.de/bundesrecht/pbefg/gesamt.pdf
And IF you have 250,000 Euros to spare, don´t read this!
https://www.wettbewerbszentrale.de/media/getlivedoc.aspx?id=35422
The Home and retreat of Ludwig the Second,Linderhof Castle http://www.linderhof.de
The World Famous Passion Play Village
The Winter Olympic Games (1936) Village,they´ve built a new ski-jump for the New Year Competition so take a look at the web-cams!
Garmisch-Partenkirchen http://www.garmisch-partenkirchen.de
If you need a Taxi or Minibus to the Airport or Hotels please call 0049(0)172 8306250 or e-mail c-edwards@t-online.de